Case Study
---
An educational campaign focused on new cannabis laws and the health risks of non-medical use.

VERMONT

CALIFORNIA

ILLINOIS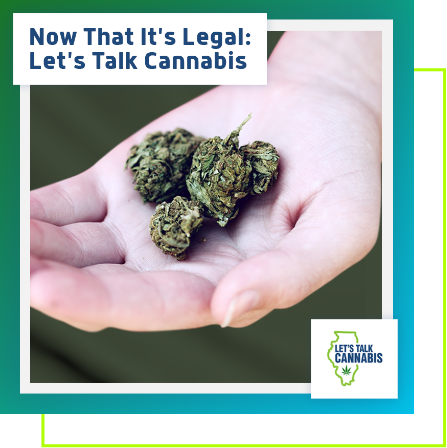 Behavior Change Approach
"Let's Talk Cannabis" is a comprehensive communication campaign that helps states establish a clear and objective source of information about what is legal and safe for the public. Originally developed with the California Department of Public Health, "Let's Talk Cannabis" uses our Decision Blocks Strategy to identify the factors that facilitate risky use, deliver actionable guidelines for safe and legal use, and prevent use for high-risk populations. The states of Vermont and Illinois have also adopted the campaign brand and strategy.
Audience Insights
Audience research reveals growing interest for a reputable, non-judgemental source of cannabis health and legal information. Research findings revealed:

1. Significant public misconceptions and confusion on legally compliant use

2. Positive and conversational tones are well-received and increase perceived credibility of knowledge with marijuana users and non-users

3. People use marijuana for a variety of different reasons; effective messages are tailored to meet the unique needs of each audience segment.
Implementation Strategy
PAID SOCIAL & DIGITAL MEDIA

We leverage behavioral data and research insights to inform our targeting strategy and reach priority populations. Tailored bite-sized messages were integrated throughout ads to spark conversations and direct people to the website for deeper message consumption.

+ expand

- collapse

PAID SEARCH

As marijuana laws change, the public frequently turns to internet searches for answers regarding safe and legal use. Our paid search strategy is able to intercept their queries and direct them to the campaign website for relevant information.

+ expand

- collapse

RADIO

Radio advertisements are effective for statewide communication, especially in rural areas. Each radio ad delivers awareness of the key information regarding the law, stating the campaign website as a resource to learn more.

+ expand

- collapse
"Let's Talk Cannabis" has launched in California, Illinois, and Vermont to serve as a clear and trusted resource as states adjust to legalized marijuana. Right now, results are primarily evaluated through media performance with plans designed to achieve behavior change goals. In a recent 8-week paid media wave in Illinois, the campaign got conversations started and achieved the following metrics: