Case Study

---
A campaign to prevent methamphetamine use in Los Angeles County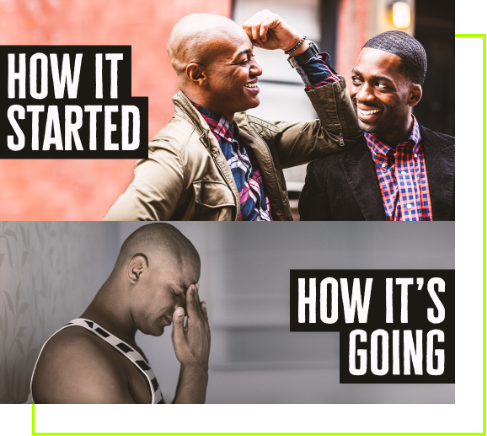 Audience Insights
FORMATIVE RESEARCH
To better understand the knowledge, attitudes, and beliefs surrounding meth use in LA County, we conducted focus groups and interviews with 41 adults. We prioritized individuals in the prevention audience who have used meth or were at risk for meth use, including men who have sex with other men (MSM) and people experiencing homelessness. Additionally, we conducted research with the agents of change audience, or those who have someone in their life who needs help. We learned:
The top reason people reported using was to relieve stress. People also used because of boredom, to be more productive, or to enhance sex.
Meth is typically introduced by people who are known and trusted, or looked up to. As a result, meth is perceived to be safe and common—not worrisome or scary—and easily accessible.
For participants, meth use and accessibility of meth increased during COVID.
Statements related to permanent neurological damage and mental health instability were reported to be most motivating to influence behavior change.
Campaigns that show extreme skin and tooth damage from late-stage use perpetuate the belief that it is "obvious" when friends or family use meth.
Behavior Change Approach
CLOSING KNOWLEDGE GAPS

We developed a new wave of Meth Free LA County ads to remove misconceptions of what meth use looks like; persuade those susceptible to meth use that the effects are dangerous and immediate; and educate all audiences about how to access local, free, or low-cost support services. Built based on our formative audience research, we developed ads specifically for those who are susceptible to meth use, including the MSM audience and individuals experiencing homelessness, as well as the agents of change audience.

To effectively change knowledge, attitudes, and beliefs around meth use, we leveraged our proprietary Decision Blocks™ messaging framework. Decision Blocks builds knowledge in a logical sequence, working to address important gaps in foundational knowledge that prevent many adults from recognizing their own risk. Then, we provided clear, attainable actions audiences can take to minimize their risks and access treatment resources.

+ expand

- collapse
Implementation Strategy
OUT-OF-HOME ADVERTISING

Billboard ads placed in high-risk zip codes throughout LA County helped drive awareness on a hyperlocal level to educate our priority audiences about the dangers of meth use and how to access resources and support. We also placed posters in transit shelters and on benches in high-visibility areas.

TRADITIONAL ADVERTISING

Radio was a highly accessible form of media to reach low-income Los Angeles residents. We created spots in both English and Spanish and placed them on top-rated stations. Live endorsements from popular DJs who had personal experience with drug addiction and recovery helped build brand trust. Television ads increased overall message awareness and comprehension, reaching the target audience by running on top-rated TV stations during later hours.

INTERACTIVE WEB EXPERIENCES

Our interactive website MethFreeLACounty.org enabled us to providing more in-depth education about the health harms and consequences of meth use, as well as helping agents of change better understand the signs of meth use.

SOCIAL & DIGITAL MEDIA

Digital videos ran in both English and Spanish on Facebook and Instagram to increase exposure to and engagement with the campaign messaging.

+ expand

- collapse
The campaign ran from July 2021 through November 2021 across LA County. Our in-house research team conducted a post-campaign evaluation, collecting data from more than 750 individuals through an online tracker survey. Most participants reported susceptibility to future meth use (42.8%) or that they had ever tried using meth (43.2%).
Individuals with three to five sources of repeated exposure to the campaign were more than two times as likely to have discussed meth with a loved one. Those with any campaign exposure were five times as likely to have helped someone get help. For the audience that was using meth, individuals with three to five sources of repeated exposure to the campaign were over three times as likely to have sought help.