Case Study
---
A Social Branding campaign to reduce cigarette smoking among high-risk young adults by associating smokefree lifestylers with Hipster values.
FORMATIVE RESEARCH
Qualitative and Quantitative Research Findings

Through qualitative and quantitative research in California and Minnesota, we found:

Roughly 50% of young adults who identified with the Hipster peer crowd were current smokers, making Hipsters the highest risk young adult peer crowd for cigarette use.


Hipsters primarily socialized at bars with live bands, rather than large nightclubs, and they often saw pro-tobacco advertisements and promoters at those venues.


Hipsters had a strong connection to their local community of artists, musicians, businesses, and designers and were resistant to campaigns from "the government" or other outsiders.


Hipsters had strong social justice values including human rights, environmental protection, and animal rights.


Hipsters responded positively to messages and advertisements that seemed to come from within their community, such as co-created messages, and Hipster-style imagery and designs.

+ expand

- collapse
BEHAVIOR CHANGE STRATEGY
ASSESS PUBLIC SUPPORT FOR POLICY CHANGE

The "Commune" campaign was developed based on Rescue's Social Branding model, a proprietary behavior change marketing strategy that utilizes peer crowd-targeted social brands to associate healthy behaviors with peer crowd values. "Commune" was developed to appeal to Hipsters by working with Hipster musicians, artists, DJs, and bars to co-create and disseminate anti-tobacco messages that associate living smoke-free with the values of the Hipster peer crowd. This strategy was designed to counter tobacco industry marketing efforts by partnering directly with bars that had once worked with the industry and convincing them to instead host anti-tobacco events.

At these monthly events, locally based tobacco-free influencers like artists and musicians highlighted how the tobacco industry's corporate practices went against peer crowd values and how smoking cigarettes supported those actions. Rescue Agency worked with local artists to co-create messages that highlighted the tobacco industry's unethical practices including animal testing, deforestation, pollution, racial targeting, and farming practices that contribute to world hunger. Paid digital and social media strategies reinforced the messaging in between events.

+ expand

- collapse
Implementation Strategy
MONTHLY EVENTS

Events at local Hipster bars allowed "Commune" to establish an authentic presence in the Hipster community while delivering anti-tobacco messaging in an organic and compelling manner. Each month, a different Hipster artist, band, clothing designer, and DJ would work together to deliver a specific fact about the tobacco industry's unethical practices, such as deforestation. The artist would create an anti-tobacco poster and the clothing designer an anti-tobacco t-shirt, both in collaboration with Rescue staff. This collateral would be featured at the event, while the DJ and band would reinforce messaging on stage.

Participant contact information would be captured to conduct follow-up messaging online. Held on Wednesdays, "Commune" events would regularly draw 300-500 young adults on an off-night, ensuring attendees were there to specifically interact with "Commune" influencers and brand ambassadors.

VIDEOS & DIGITAL MEDIA

Videos and digital messages were designed to change Hipsters' social norms by associating living smoke-free with their values. Each video would include local influencers sharing why they choose to live tobacco-free while highlighting how they are contributing to the cause with their craft through art, clothing design, and more. The videos were promoted using paid and organic digital media strategies which drove participants to the "Commune" website to learn more. While "Commune" events established the brand's authenticity, digital media expanded its reach to all Hipsters in the targeted cities.

QUIT GROUPS

In addition to the events, in-person and online quit groups—otherwise known as the "Smokefree Social"—provided Hipsters ready to quit smoking with access to a counselor through a quit group. By targeting Hipsters with these groups, these young adults could quit with like-minded peers in a more comfortable setting. The 12-week groups provided quit plans, quit tips, and peer support as participants tried to quit and remain tobacco-free. Most importantly, the groups helped them figure out how to socialize smoke-free.

+ expand

- collapse
The "Commune" campaign has multiple published multi-year evaluations. The first evaluation, published in the American Journal of Public Health, found that current (past 30 day) smoking decreased from 57% (baseline) to 48% (at follow-up 3; P=.002), and daily smoking decreased from 22% to 15% (P<.001) in San Diego.The second evaluation, published in the American Journal of Health Promotion, looked at a controlled study of "Commune" in San Diego and San Francisco, compared to a control city Los Angeles. Smoking in San Francisco decreased at a significantly faster rate (51.1%-44.1%) than Los Angeles (45.2%-44.5%) (P 1⁄4 .034). Smoking in San Diego (mean: 39.6%) was significantly lower than Los Angeles (44.8%, P < .001) at both time points with no difference in rate of change, possibly due to previously documented reductions being sustained. The Smokefree Social has also shown promising quit rates among participants.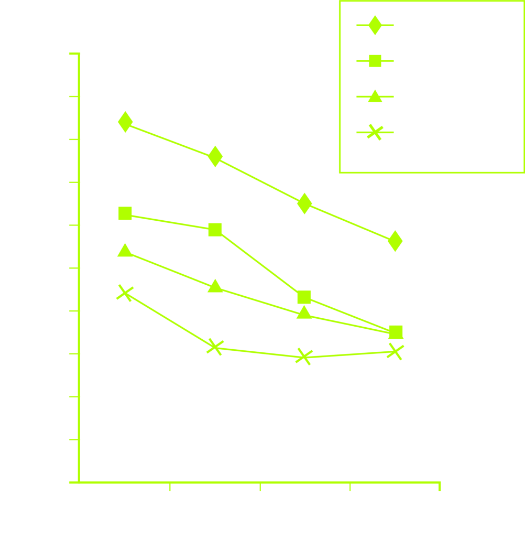 View Study